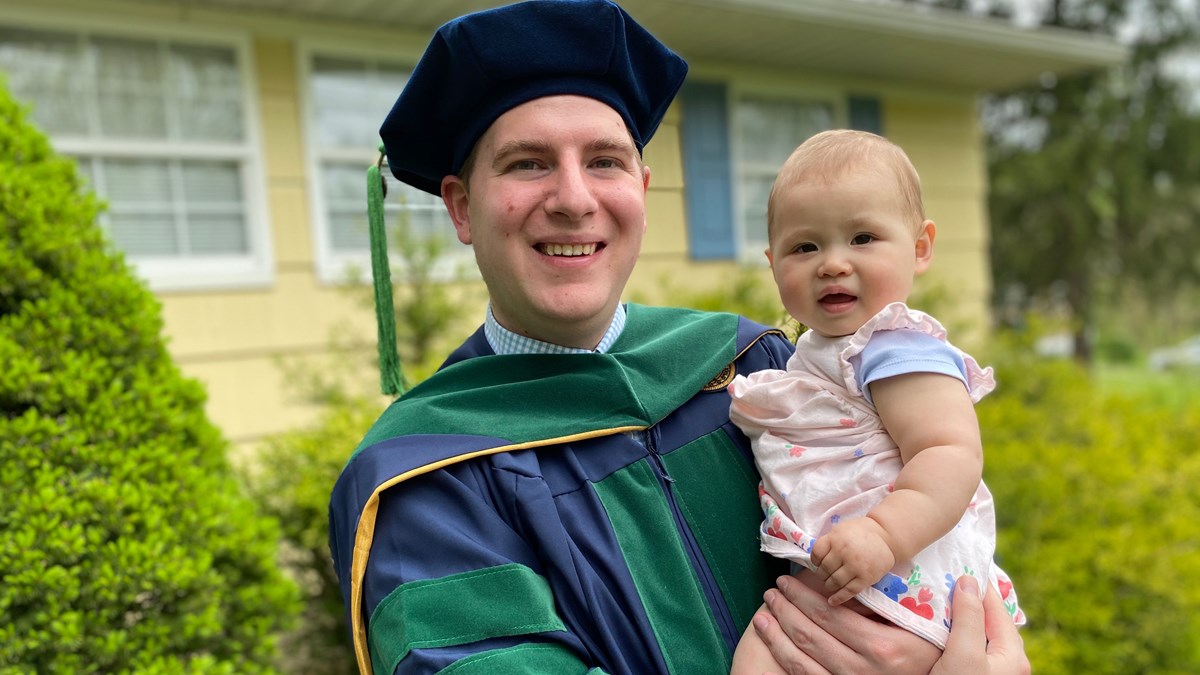 The people at WVU are what make this place truly special. The friendships and mentorships that I have developed here will be something I will definitely miss.
Residency:

University of Michigan Hospitals Ann Arbor, Internal Medicine/ PSTP

Special Honors:

Meritorious Research Award from the American Physiological Society Epithelial Transport Group, 2017
Why did you choose the WVU School of Medicine?
I am originally from the state of West Virginia and a WVU alum, so the possibility of getting to stay close to home for a great education was a major selling point. I also had so many great experiences and incredible mentors throughout my undergraduate studies that I didn't even consider going anywhere besides WVU for my medical education.
Why did you choose to study Cellular and Integrative Physiology, along with an M.D. degree?
I got involved in research fairly early on in my undergraduate studies and the primary focus of that work was cardiovascular physiology. I really just enjoyed doing physiology research, so the cellular and integrative physiology program was a natural fit for my interests.
Did you have an "a-ha!" moment when you knew this was the right field for you?
I think my "a-ha" moment might have been when I was rotating on my Internal Medicine clerkship. The specialty offers this perfect blend of diversity in the pathology you can see as well as being the perfect fit for someone that really enjoys physiology.
Did you have a mentor at WVU who made an impact on your experience? If so, who and how?
This question is difficult, since I had multiple individuals that contributed to my success while in the program. I would be remise if I didn't mention my undergraduate advisor, Dr. Greg Dick, who initially got me involved in research. He unfortunately left following my start in the program, so I had to switch to a different lab. I got incredibly lucky again with my second advisor, Dr. Rajendran. His field of study was the gastrointestinal tract, which was quite a switch from my previous experiences. However, my time in the lab was incredible and has inspired me to continue in the field of gastroenterology going forward.
What piece of advice would you give and incoming M.D. or Ph.D. student?
I would say try to enjoy the ride. Both programs push their learners, and I know it can be tiring/difficult at times. However, the journey comes to an end more quickly than you expect, and you will definitely miss this special place.
It has been a little different ending your education at home under quarantine. How have you adapted?
It has been quite different finishing up this way. I am use to being at HSC and the hospital on a daily basis, so the prolonged absence is different for sure. As far as adapting to the new setting, it has been different, but I have had the opportunity to spend a lot time with 10-month old daughter, Emma.
Where are you off to next?
I will moving on from WVU for the first time in 11 years to the University of Michigan. I will be completing a physician-scientist training program (PSTP) in Internal Medicine. The program is a total of 7 years with a combined residency and fellowship position, which is already decided to be gastroenterology.
Coronavirus has shown us the very best of health care professionals and researchers in trying times. What drew you toward this career path?
I think just exactly what you have seen in the news of healthcare providers selfless acts. I really enjoy helping people. You really get a lot of satisfaction in helping people in clinic or in the hospital. I honestly can't imagine doing any other field of work.
If you had to say what the best kept secret about Morgantown/WVU is, what would you say?
I don't know if it's a secret, however I would say the people. The people here at WVU are what make this place truly special. The friendships and mentorships that I have developed here will be something I will definitely miss as I move on to the University of Michigan.