Faculty Presentations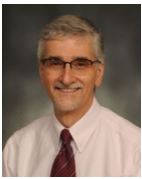 A manuscript on which Dr. Charles Ponte collaborated, Laboratory and Clinical Monitoring of Direct Acting Oral Anticoagulants:       What Clinicians Need to Know  is one of the top 100 cited manuscripts of all time. It was also featured as one of the top 40 articles in the 40th anniversary issue of the journal Pharmacotherapy: The Journal of Human Pharmacology and Drug Therapy.
Recent Publications 
Dr. Adelman & Cindie Harper's manuscript "Implications for Incorporating Home INR Monitoring into Practice: Perspectives from an Interdisciplinary Team" has been  accepted for publication in Health & Social Work.
Dr. Cubic has published a book chapter entitled "Consultation in Medical Settings" in Consultation in Psychology: A Competency-Based Approach.
Haggerty T, Sedney C, Giacobbi P, Workman S, Chafin, A,  Dino G. (In press). The Use of mHealth in Clinical Settings for Patient Education: A Scoping Review. Journal of Mobile Technology in Medicine
Peckens S, Linger N, Capito J, Elavsky M, Peklinsky R, Crocetti E, Abel M, Xiang J, Ashcraft A. (In press). Improving Nephropathy Screening in Appalachian Patients with Diabetes Using Practice-Wide Outreach. Journal of Clinical Outcomes Management.
Drs. Ponte & Adelman's manuscript "Two heads are better than one: practical smoking cessation tips in diabetes education" has been accepted for publication in the American Association of Diabetes Educator. Their featured article serves as the basis for the journal cover.
Dr. Theeke had an article, "Systematic review of quantitative studies of the relationships among psychosocial factors and coping in adult men and women with type 2 diabetes mellitus," published in the International Journal of Nursing Sciences.
Posters and Presentations
Ashcraft AM, Farjo S, Dotson S, Ponte CD, Sambamoorthi U, Murray PJ. Using a Mystery Shopper Approach to Assess Emergency Contraception Access in WV Community Pharmacies. Poster presented at the Adagio Transforming Women's Health Symposium. Sep 2019
Dr. Burrell's poster "HCV and HIV Screening in the Urgent Care Setting" will be presented at the 2020 Urgent Care Convention and Expo in Las Vegas in May 2020. 
Drs. Moyers, Ashcraft, & Haggerty's poster "Body Dissatisfaction in Pre-Adolescent Children in Rural West Virginia," poster presented at the WV Rural Health Conference in Huntington, WV in Oct. 2019
Dr. Theeke's poster "Transitioning Graduate Courses From Synchronous to Hybrid While Meeting Quality Matters Standards for OnLine Education" at the International Sigma Theta Tau Convention  in Washington, DC on Nov. 16, 2019.
Sedney C, Haggerty T, Wood N, Dekeseredy P. (2019, Oct). Initial impact of SB273 on number of opiate prescriptions written in West Virginia. Poster session at the 27th Annual West Virginia  Rural Health Association Conference, Huntington, WV
Drs. Unger & Oreskovich's presentation "The Standardized Patient   as an Educator: Teaching Students to Communicate with Patients" was accepted at the STFM Conference on Medical Student Education in Portland, OR in Jan/Feb 2020. 
Drs. Unger & Oreskovich will present a 4-hour workshop "A Day in the Life of the Family Medicine Acupuncturist" at the 2020 AAMA Symposium
Dr. Silverberg presented a poster "A Rare Complication of Pharyngitis" at the AAFP Family Medicine Experience. 
Dr. Silverberg presented "Into the Wild Blue Yonder: In-Flight Medical Emergencies" at AAFP Global Health Summit, "The 10 Commandments of Travel Medicine" and "State of the Art Update - UTIs and STIs" at the Mid-Atlantic College Health Association conference, and "Review and Update - UTIs and STIs" and "Identifying and Addressing Human Trafficking in the Urgent Care Setting" at the Northeast Regional Urgent Care Association conference.
Cottrell SA, Hashmi M, Hedrick J, Kiefer C, Murray A, Sofka S, Williams D, and Ferrari N. Preparing Medical Students to Transition to Residency: An Accelerated Track. Poster at the National Residency Matching Program (NRMP) Transition to Residency conference. Oct 2019.