Rotations
VA Medical Center
Our affiliation with the Louis A. Johnson Veteran's Administration Medical Center in nearby Clarksburg, W.Va., ensures that residents also have ample opportunity to provide primary eye care and surgery. Residents usually perform more than 250 cataract extractions, placing the cataract surgery volume for residents in the 90th percentile nationwide.
Residents rotate regularly through the comprehensive, retina, glaucoma and oculoplastics clinics at the VA Medical Center. Cataract surgery, with direct resident participation, is also performed at the VA Medical Center.
Consult/Comprehensive Service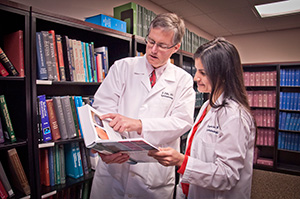 The goal of this rotation is to provide the resident with a well-rounded comprehensive and in-patient consult experience.
During this rotation, the resident is responsible for all emergency room and in-patient consultations, Monday through Friday from 8 a.m. to 4 p.m.
Comprehensive services are provided by several of our faculty members. Residents also have their own weekly comprehensive clinics with direct faculty supervision provided.
Cornea/External Disease and Refractive Surgery
This busy service led by Thomas Mauger, M.D., Annahita Amireskandari, M.D., Lingo Lai, MD, and Ebru Toker, M.D. provides care for the full spectrum of cornea and external diseases. Faculty provides leadership for the Medical Eye Bank of West Virginia. The service has also kept pace with the latest developments in refractive surgery. This service also supports a cornea fellowship, led by Dr. Lai.
Glaucoma
Residents receive training in the diagnosis and management of all glaucoma cases including congenital and complicated secondary glaucoma. They are exposed to the most current medical, laser and surgical treatments such as filtration surgery with antimetabolites and artificial drainage devices. Our glaucoma faculty includes Tony Realini, M.D., MPH, Judie Charlton, M.D., Kevin Halenda, M.D. Brian McMillan, M.D., and Joel Palko, M.D. This service also supports a glaucoma fellowship, led by Dr. Realini.
Neuro-ophthalmology
This busy tertiary care service is staffed by Brian Ellis, M.D., and Praveen Jeyaseelan, M.D., MBBS. Residents have the opportunity to learn neuro-imaging techniques.
Oculoplastic and Orbital Surgery
John Nguyen, M.D., and Bradley Thuro, M.D., lead this service that draws referral patients from the entire state. The surgical experience is substantial, and the number of resident cases places our program in the 90th percentile nationwide. This service also supports an ophthalmic plastic surgery fellowship led by Dr. Nguyen.
Pediatric Ophthalmology and Strabismus
This service provides both medical and surgical care for children with a wide range of diseases and adults with strabismus. Residents are exposed to evaluation and treatment of eye diseases including congenital cataracts, congenital glaucoma, strabismus and inherited eye disease. Surgical volume is large and residents have the opportunity to follow patients throughout the preoperative evaluation, surgical procedure and postoperative outcome. WVU Eye Institute has three pediatric ophthalmologists: Geoff Bradford, MD, Praveen Jeyaseelan, M.D., MBBS, and Ryan McGuire, MD, and one pediatric optometrist,  Allison Hixenbaugh, O.D.
Medical Retina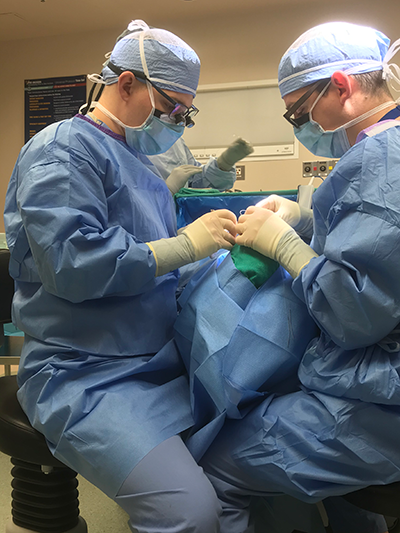 This service under Carol Laxson, M.D., and Monique Leys, M.D., sees approximately 100 patients per week who are investigated with ultrasound, OCT, digital angiography and electrophysiology. More than 500 laser procedures for age-related macular degeneration and diabetic retinopathy are performed each year.
Uveitis expertise is also provided at WVU Eye Institute under the direction of ocular immunologist Grace Levy-Clarke, M.D.
Surgical Retina
The goal of the surgical retina rotation is to develop knowledge of the surgical aspects of diabetic retinopathy, proliferative and non-proliferative, retinal detachment, ocular trauma, ARMD and cataract surgery complications.  Most important is the role that the vitreous plays in the creation of these problems and how modification may salvage vision. Our faculty in surgical retina includes Ghassan Ghorayeb, M.D., Nicole Pumariega, M.D., and Mona Singh, M.D., MPA. This service also supports a vitreoretinal fellowship led by Dr. Ghorayeb.