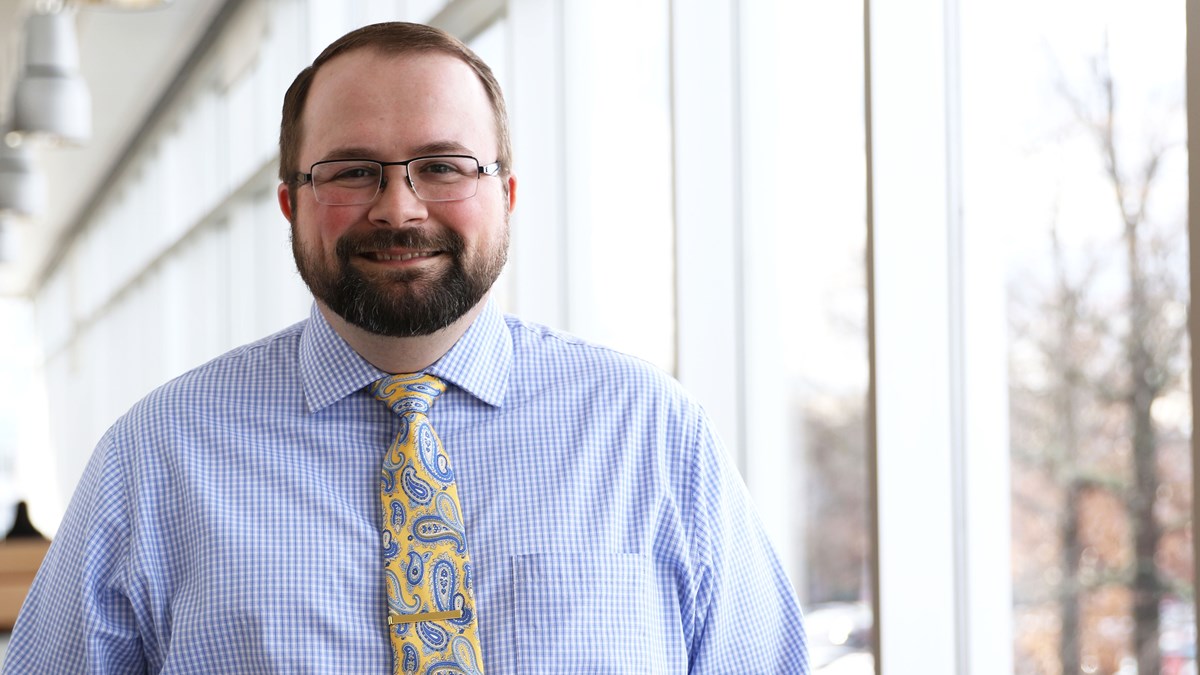 Growing up, Jason Evans, Ph.D., had a clear idea of the career path he wanted to pursue. The native of McDowell County, West Virginia, discovered that he enjoyed hands-on science and a fast-paced, challenging environment. The Medical Technology undergraduate program, currently known as Medical Laboratory Science, at West Virginia University, offered just that.
Medical laboratory scientists not only perform laboratory procedures including sophisticated analyses, but also interpret the results, integrate data, consult, conduct research and develop new test methods. Earning a degree in medical laboratory science opens doors to a wide variety of career opportunities. For Professor Evans, pursuing a graduate degree seemed the perfect fit for his future aspirations. In 2013, he earned a doctorate degree in Cancer Cell Biology from WVU's School of Medicine.
"I figured out early on that laboratory work was my passion, and at the time I was thinking of either going to medical school or graduate school," Evans said. "I was leaning more towards graduate school for the lab work side of it, and this program offered everything that the other programs didn't as far as the more health-driven science courses that are more relevant to human diseases."
Evans spent the next four years of his career at the Ohio State University as a post-doctoral researcher before joining WVU as an assistant professor in the Department of Pathology, Anatomy and Laboratory Medicine.
"I was overjoyed to come back to the program in a teaching position," he said. "It felt great coming back to WVU where I spent all of my undergraduate and graduate years."
For those considering medical laboratory science as a potential career avenue, Evans recommends having a strong science foundation and well-developed study habits. According to him, this is key to make the shift from basic sciences to the medical, human, or health-based sciences. The fast-evolving field offers rapid advancement, multiple employment opportunities and competitive salaries.
"We have 100 percent placement of all of our students every year who either choose to work in a hospital laboratory or take the graduate education route," Evans said. "Coming out of the program with this degree, you have a guaranteed job, or you can also go to medical or graduate school. It is really unlimited if you want to be in the healthcare field."
In his capacity as an assistant professor, Evans assumes an array of responsibilities. In addition to his teaching role, he enjoys having students participate in laboratory training where they learn how to apply educational theories and understand the impact their profession has on patients' lives.
"I enjoy the one-on-one interaction with my students the most," he said. "In our department, our doors are always open, we have a close relationship with our students and we are keen to help them succeed."
Evans further credits the program for the clinical hands-on experience it offers to all students in a setting that extends beyond the lecture hall. This well-rounded training positions the program to attract attention.
"As our program stands now, if you are a student, you are guaranteed a clinical rotation spot to fully complete your training as a medical laboratory scientist," Evans said. "Having a small program fosters engagement and allows us to dedicate more time to each student."
Medical laboratory science professionals are vital to the healthcare system. Patients have personal encounters with their doctors and nurses, but many overlook the fact that the laboratory information and analyses that assist physicians in patient diagnosis and treatment, as well as disease monitoring and prevention, are meticulously performed by medical laboratory scientists. They are the behind the scenes disease detectives.
Evans shares some key facts in his attempt to clarify some of the misconceptions surrounding the field.
"One of the things that I have encountered over the years is hearing our profession being referred to as 'button pressers,' in the sense that we receive the blood sample, we put it in a big automated instrument, we hit a button, then the machine does the work," he said. "Our job entails a lot more than this. We have to understand these machines and these concepts because, as we teach our students, instruments break, and you have to understand how they work and be able to perform manual tests. You can't just say 'sorry my instrument is down; it won't be repaired before three weeks so you cannot get the results today.' There is a rigorous amount of scientific training involved, and this is why we are called scientists."
Asked about his constant motivation, Evans explained how cultivating a positive outlook and adopting a holistic perspective when things don't go as planned have always helped him maintain his drive.
"If you get wrapped up in small things, life can get overwhelming," Evans said. "However, when you take a step back and look at the bigger picture, what you are doing for overall patients' health, as well as your role in teaching and training the next generation of scientists, you regain a sense of appreciation for the impact this field has."