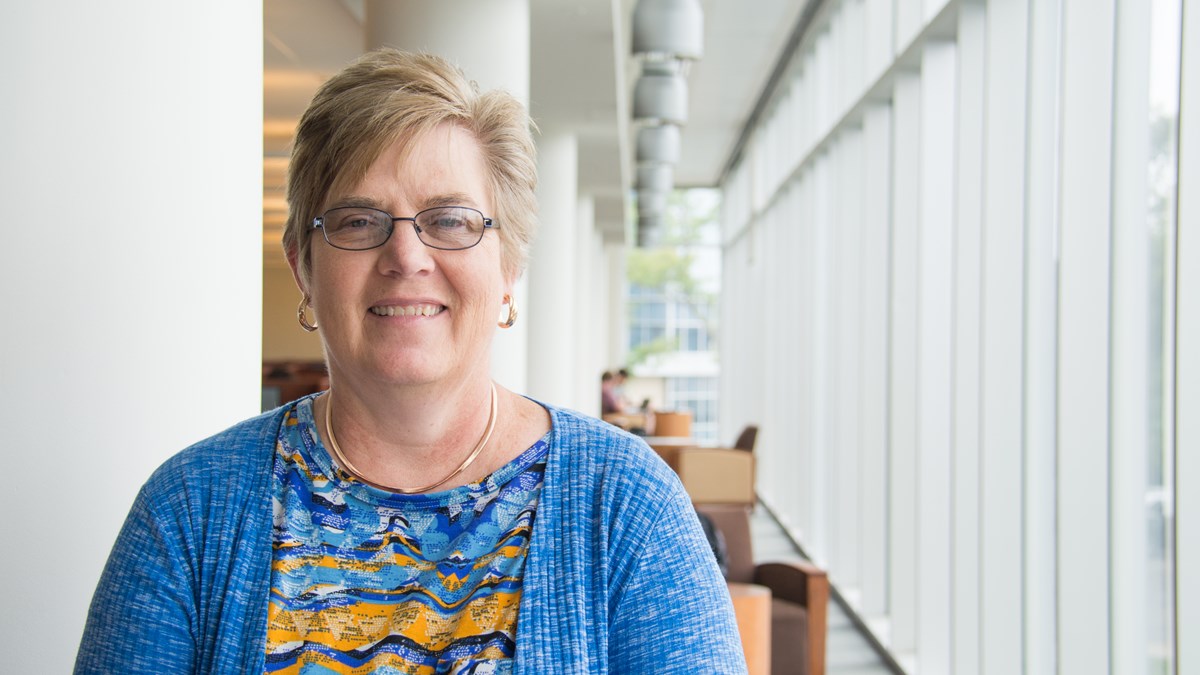 Non-traditional professor starts first Health Informatics and Information Management program in West Virginia
Sally Lucci, a native of Beaver, Pennsylvania, had a forward-moving career in a health care system. She spent nearly three decades at Heritage Valley Health System, then moved to Western Psychiatric Institute and Clinic of UPMC in 2011, where she took on the role of health information management (HIM) director for four years. During that time, Sally was teaching simultaneously at a community college until two years ago when she came across an advertisement for the Health Informatics and Information Management (HIIM) program director position in WVU's School of Medicine. She felt then that this was her calling.
"I started teaching some Windows classes to truck drivers," Sally said. "I remember teaching them how to use a mouse, and I really enjoyed the interaction. Then I did some adjunct teaching and taught transcription and medical coding. I loved working with students and learning from them. That's why when I saw this opportunity at WVU, I thought it was the perfect fit for me."
Motivated by her passion to try new things and start new programs, Sally was excited about expanding on her teaching role as well as bringing the Health Informatics and Information Management (HIIM) program, the first one in the state, to WVU. This year, the program, housed under the Department of Human Performance along with programs in Exercise Physiology, Occupational Therapy and Physical Therapy, has a total of 26 students.  
Health Informatics and Information Management combines business, science and information technology to create a unique 120 credit hour undergraduate degree with diverse opportunities for graduates. In the HIIM program, students experience healthcare applications currently in use by learning on the internet-based, VLab developed by the American Health Information Management Association (AHIMA). Students also gain valuable experience during three professional practice experiences.
Elaborating on the program, Sally believes that it will significantly impact the health care system in West Virginia and pave the way for a qualified workforce, preparing them for national leadership roles. While not directly involved in patient care, the great mix of healthcare, management and technology renders the health information and informatics profession an integral and necessary part of the health system.
"Even though they are behind the scenes, HIIM professionals have a great impact on patients' lives," she said. "Interestingly, my physician was asking me 'so you are going to teach students how to talk to both IT and physicians?'," she said. "That was his frustration, because often, physicians don't understand what IT professionals are saying and vice versa. It was time to bridge that gap."
Not only does the HIIM program fill a gap in the workforce, it also meets an imperative need for students who might want get involved in the health care system without having direct patient care. As Sally explains, the potential avenues for graduates are countless.
"There is a wide variety of job settings ahead of HIIM graduates," Sally said. "They can work in large healthcare systems, physician practices of all sizes, health care centers and clinics, the legal department with risk management, compliance, privacy, security and others."
While some argue that there is a sense of security in a well-trodden path with a visible finish line where every step is meticulously calculated, Sally reiterates that curvy routes can be rewarding and enjoyable.
She earned her bachelor's degree in business from Carlow University. She had an associate's degree also in business from Penn State, a master's degree in organizational leadership from Geneva College, and while she was working, she pursued an institutional certificate enabling her to work in the health informatics and management field.
Reflecting on her journey today, she says it took hard work, dedication and many years to get to this point in her professional career; nevertheless, she enjoyed every step of the way. The experiences she gained from switching jobs and transitioning from one field to another ultimately contributed to what she is currently doing. 
"I like telling my students how I didn't just come out of high school and decide to have one career path, my path was rather windy," she said. "You don't have to be that traditional student; you can do things out of the ordinary."
Sally is married with three children and five grandchildren, and says her favorite hobby is quilting. In fact, a colorful quilt hanging on the wall cannot go unnoticed when you pass by her office.
"When I first moved here, people passing by my office would just stop and ask me about it," Sally said. "It was the perfect ice breaker."