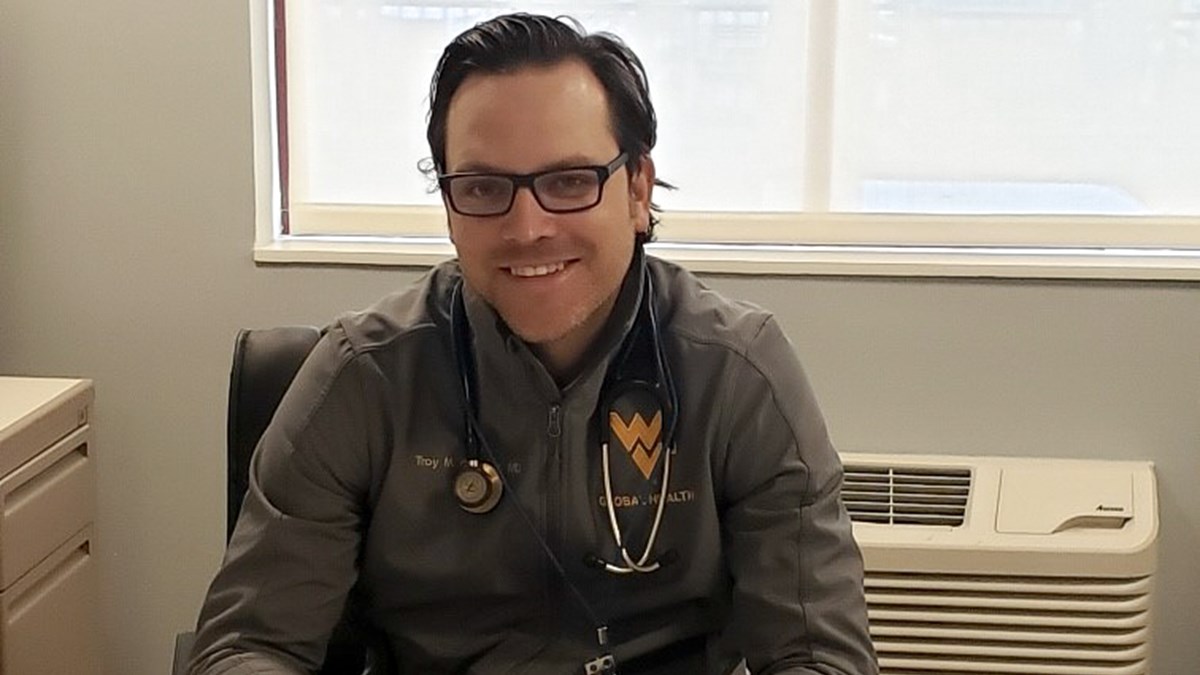 Serving on the frontlines of the COVID-19 pandemic in his roles as Section Chief of Hospital Medicine, medical director of skilled nursing facilities, and as a lead physician, Troy Krupica, M.D. has seen the trials and tribulations that the pandemic has had on the field of medicine and the state of West Virginia.
"This past year was the most challenging of my professional career. We saw a tremendous loss of life, coupled with a general sense of uncertainty and hopelessness," he said. "Despite all the bad, there were lessons learned and changes made that will have a lasting impact on the future of healthcare."
A native of West Virginia, Krupica studied at Wheeling Jesuit University in Wheeling, West Virginia before moving to the nation's capital to study medicine at Georgetown University in Washington, D.C.
"I have always appreciated and respected the intellectual challenge of medicine and, like many physicians, I find fulfillment in serving others and giving back to my community," he said.
Returning to the mountain state for his residency at the West Virginia University School of Medicine, Krupica has continued his work with the University working his way into his current position as Section Chief of the largest section in the Department of Medicine.
"Typically, in my Section Chief role I recruit, train, mentor and lead a group of hospitalists and advanced practice professionals," he said. "During COVID-19, this changed significantly where our section, along with ICU became the frontline of patient care and surge management. Our hospitalist group became main providers for non-ICU Covid-19 patients."
Along with managing the Section of Hospital Medicine, Dr. Krupica oversees patient care in two skilled nursing facilities and acts as lead inpatient physician on the hospital recovery plan for COVID-19.
"West Virginia has always been home, so returning here for my residency and then continuing on with the University and my other roles to serve the great residents of this state has allowed me to show my appreciation and love for the state, and the people who have shaped me into who I am today."
In his extremely limited free-time, Krupica finds that spending time with his family is what is most important.
"I am the proud father of a 5-month-old baby girl and legal guardian of my niece. The role that I play for them is what I am most proud of in my life; therefore, I spend as much time as possible with them, my wife, brothers, parents, nieces and nephews," he said.
As the healthcare field continues to adjust to the changes of the last year, Krupica focuses on the positive impacts that it has had on the state.
"In West Virginia, we have tackled some of the largest challenges of COVID-19 and outpaced many other states in this endeavor," he said. "We have shown efficiency in our testing sites, continued to provide access to care, implemented new treatment modalities, and have operationalized one of the best vaccine programs in the country. West Virginians have shown the rest of the world what we've known all along -- that we are strong, capable, smart, innovative and good-hearted people."