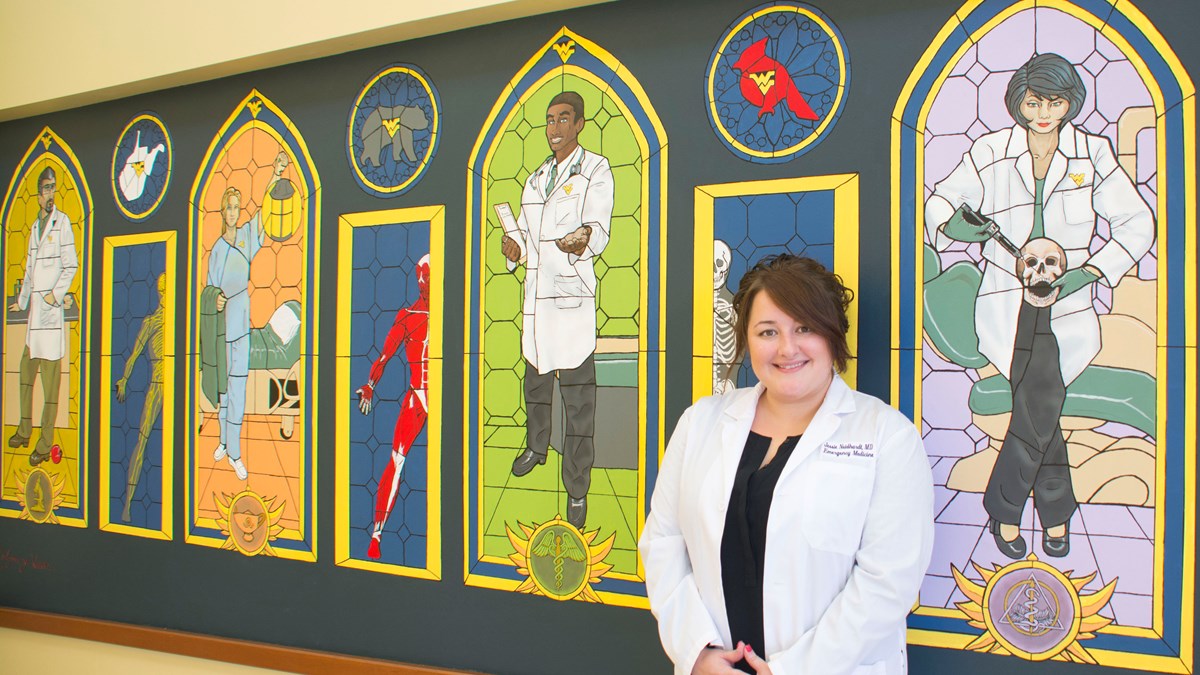 Hometown:

Wheeling, West Virginia

Undergraduate Degree:

Biology , West Liberty University, West Virginia

Graduate Degree:

M.D. degree , School of Medicine, West Virginia University

Residency:

Emergency Medicine, West Virginia University
What is your hometown, state/province and country?
I am from Wheeling, West Virginia.
Undergraduate degree in what subject? From where? Other degrees?
I earned my bachelor's degree in biology from West Liberty University, West Virginia. I got my medical degree from West Virginia University School of Medicine.  Now I am in my last year of residency in the department of Emergency Medicine and I couldn't be happier.
Why did you want to become a doctor? Is there an experience you've had that made you realize why you chose this profession? 
My father is a physician and my mother is a nurse. They were both making a huge difference in our community. People loved them and appreciated what they did for them. So, I knew I always wanted to do some form of caring for patients, I just didn't know where I fell in the spectrum. I originally went into nursing school then switched to biology so I could become a doctor.
Why did you choose WVU? 
WVU was my number one choice for a lot of different reasons. I love Morgantown area and I love the people of West Virginia. I didn't want to go out of state and I thought that WVU had a homey atmosphere where I would be cared for well.
What would you tell prospective students about your experience at WVU and the School of Medicine? 
First of all, if you want to get into medicine, you have to do it for all the right reasons. If you are doing it for anything other than patient care, you are probably choosing the wrong field. Medical school is challenging; it will be one of the most challenging things you will ever do, but at the end of the day it's all worth it. If you come in and you're really dedicated, then you can do anything. All it takes is dedication and drive.
If you want a well-rounded education that focuses on patient care and more of a family atmosphere, then WVU will be an excellent fit for you.
What are you hoping to do next in your career?
I will be eternally grateful for my residency here; I knew I wanted to stay here for residency because of the people and they have wildly exceeded my expectations.
I am actually torn right now between academic and community medicine. I am thinking that I want to work somewhere that has good women and children population. Obstetrics and pediatrics are my two favorites specialties so I want to mix between academic and community medicine.
Tell me something unique or interesting about you that others may not know?
I'm married for seven years now. I got married right before medical school and I think that having a partner throughout this journey was essential. We have a dog that I got in the first year of school and he is my partner in crime. My fellow residents are my support system. I like to ski a lot and I was a wedding singer. 
Did you have any professors or mentors who had an impact on you?
Dr. Norman Ferrari, the vice dean for Medical Education is probably my favorite person. All the professors here have this open door policy. I can't tell you how many times I would go into their office and ask for guidance. I feel like that you develop a relationship with almost all of them.
What were the most rewarding moments during residency?
When you are a resident, you see people in their worst day. You see these horror stories that turn well and you have these parents who are grateful to you because you took care of their child. These little things are the most rewarding for me in the Emergency Medicine department.
I think those moments are what keep me going because you take care of people on their worst day and you try to make this experience a little easier for them.