Distinguished Alumnus Award
Sponsored by the WVU School of Medicine Alumni Association
This award was established in 1984 by the Executive Council of the WVU School of Medicine Alumni Association, and was revised in 1995 by the Awards Committee. The intention is to honor those alumni "whose distinguished careers and unselfish contributions to society have enhanced the prestige of West Virginia University School of Medicine and in their own special way, have helped to upgrade the quality of health care."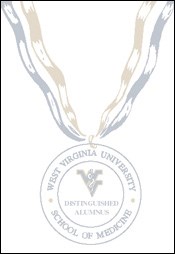 Selection Criteria
A candidate must be a graduate (MD or PhD) of the West Virginia University School of Medicine whose career has been distinguished by scholarly achievement, humanitarian contribution, or outstanding service to the institution. This award honors a single outstanding accomplishment, or a lifetime of merit with international or national recognition.
Want to Nominate Someone?
Send your nomination and letter of support to:
WVU School of Medicine
Office of Alumni Affairs
PO Box 9114
Morgantown, WV 26506-9114
Email: lnine@hsc.wvu.edu
Award Recipients
2019
Richard W. Thomas, DDS, MD, Class of 1994
2018
Robert A. "Gus" Gustafson, MD, Class of 1976
2017
Norman D. Ferrari III, MD, Class of 1982
2016
Michael B. Edmond, MD, Class of 1986
2015
A. Paul Brooks, Jr., MD, Class of 1966
2014
David Peden, MD, Class of 1984
2013
David Jones, MD, Class of 1989
2012
Clay Marsh, MD, Class of 1985
2011
Lawrence H. Phillips II, MD, Class of 1974
2010
B. Thomas Hutchinson, MD, Class of 1956
2009
John R. Marler, MD, Class of 1980
2008
Ellen Shaw deParedes, MD, Class of 1978
2007
Raymond F. Morgan, MD, Class of 1976
2006
William A. Neal, MD, Class of 1966
2005
Larry W. Moreland, MD, Class of 1983
2004
Richard M. Allman, MD, Class of 1980
2003
Ronald O. Valdiserri, MD, Class of 1977
2002
James E. Cottrell, MD, Class of 1968
2001
Ivan Schwab, MD, Class of 1973
2000
Edward J. Shahady, MD, Class of 1964
1999
David Westfall, PhD, Class of 1968
1998
Margaret A. Kessinger, MD, Class of 1967
1997
Margaret C. Heagarty, MD, Class of 1959
1996
Charles B. Cuono, MD, Class of 1971
1995
Larry K. Pickering, MD, Class of 1970
1994
David C. Fogarty, MD, Class of 1973
1993
Michael J. Lewis, MD, Class of 1975
1992
C. Richard Daniels, MD, Class of 1954
1991
Lawrence A. Krames, MD, Class of 1966
1990
Isaiah Wiles, MD (deceased) Class of 1933
1989
David Z. Morgan, MD, Class of 1950
1988
Jay M. Arena, MD, Class of 1930
1987
Mitchell M. Benedict, MD (deceased), Class of 1923
1986
Dana L. Farnsworth, MD (deceased) Class of 1931
1985
Larry Schwab, MD, Class of 1966
1984
Pat A. Tuckwiller, MD (deceased), Class of 1926