Vicente and Guadalupe Anido Laboratory Medicine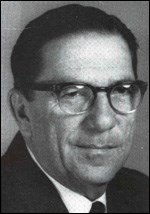 WVU Department of Pathology established this award to honor a second year medical student who has achieved general academic excellence and promise in pathology. A monetary award is made along with a congratulatory letter from the Department of Pathology.
Dr. Vicente Anido was Clinical Laboratory Director of West Virginia University Hospital from 1967 – 1976. His wife Guadalupe established this award upon his retirement from WVU in honor of his devotion to our school and our medical students.
Dr. Anido was born in Spain and moved with his family to Havana Cuba as a child. He received his entire medical education and specialty training in Cuba. After the Castro takeover in Cuba, he immigrated to Miami, Florida in 1960. He came to WVU n 1963 as Assistant Professor of Pathology. He became Associate Director of the Clinical Laboratories at WVU in 1967 and Director in 1968. He held that position until 1976 when he retired from WVU and became Director of the Clinical Laboratories at the VA Hospital in Clarksburg, WV. He remained as Director there until 1984. After a brief illness, he died in 1985 at WVU Hospital.
Dr. Anido is remembered as a warm, welcoming, bright and very disciplined physician and educator. He was very interested in medical education and devoted to teaching medical students. He enjoyed his adopted country and West Virginia University. At the time of his retirement, WVU had a mandatory retirement policy, or he would have stayed as Director of the Laboratories. He was a devoted husband and father. The Anido Award carries the name of a devoted teacher and excellent clinician.
Award Recipients
From the Class of ...
2020
Eric Bonar
Ashton Cross
2021
Noelle Lemons
2020
Pranav Jain
2019
Jessica Patterson
2018
Frank Lacy
2017
Sarah Bowen
2016
Hayley Leight
2015
Benjamin Biddix
2014
Jonathan Amoroso
2013
Rakesh Patel
2012
Tara Melgary
2011
Brittany K. Ninness
2010
Joseph Donahue
2009
Melissa Alleman
2008
Jeffrey K. Mullins
2007
Tiffani D. Lemen
2006
Anthony Capito
2005
Brian Bond
2004
Julie McWhorter
2003
Rebecca Burbridge
2002
Jennifer Daugherty
2000
Michael Albert
1999
Amy Beasley
1998
Daniel Church
1997
Elizabeth Harrison Hess
1996
Loreen Pettit
1992
Cheryl Parra
1991
Michael Oliverio
1989
Edward Birdsong
1988
Carolyn Revercomb
1987
Gregory Thompson
1986
Michelle Maroon and Luann Minich
1985
W. Sue Casadorph
1984
Sal Parascandola
1983
R. David Allara
1982
Barbara A. Clark
1981
Susan C. Davis and Thomas W. Croghan
1980
Donald R. Lilly
1979
Linda S. Yazvac
1978
Sheila J. Walkup