Edward G. Stuart Award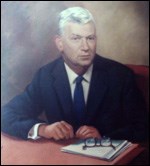 This award recognizes the 4th year medical student who "best exemplifies the qualities of empathy and understanding and strengthens competency with compassion". The selected by a consensus of MS-III Clerkship Directors and the Deans of the Office of Student Services of the WVU School of Medicine. The award consists of an engraved plaque and a monetary award.
The award is named after Edward G. Stuart who is former Vice President of the West Virginia University Medical Center appointed in 1965. He died one year later from a sudden myocardial infarction. Dr. Stuart was a graduate of Wistar Institute of the University of Pennsylvania (PhD '52 in Anatomy) and was a graduate of the Duke University School of Medicine.
He joined the faculty at WVU School of Medicine in 1960 as an Associate Professor of Pathology. He was named Assistant Dean for Student Affairs in 1961. In his role as Associate Dean, he developed a very special relationship with the medical students.
His warmth, keen sense of humor and genuine interest in student were the attributes which served him well. He received the first Percival L. MacLaughlin Memorial Teaching Award in 1962 because of his ability to stimulate thought, imagination and creativity.
Award Recipients
2020
Sarah Lazur
2019
Matthew Lokant
2018
Kristen Catherman
2017
Emily Neal
2016
Jodi Paige Cook
2015
Adriana Bonasso Cline
2014
Christopher Arena
2013
Christopher Reynolds
2012
S. Matthew Akers
2011
Allison Marie Lastinger
2010
Lauren Westfall
2009
Christopher W. Liebig

2008
B. Jean Meade
2007
Shari Twigg
2006
Melanie Atkins
2005
Jean Aukerman
2004
T. Bradley Miller
2003
Lisa Wood
2002
Smokey Clay
2001
Heidi Ludwig
2000
Amy Beasley