John E. Prescott Award for Academic Excellence, formerly known as the McGraw- Hill and Appleton-Lange Award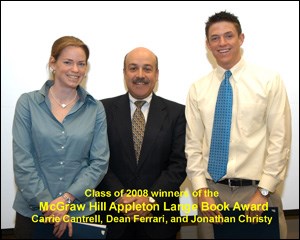 This award was originally established by the McGraw-Hill and Appleton-Lange book publishing companies in recognition of the two students with the highest academic rank during the first year of medical school. This award has consisted of four free books from the McGraw-Hill and Appleton-Lange Publishers.
The MD degree Class of 2008 requested the award be renamed in honor of former School of Medicine Dean, John E. Prescott, MD who lead the school from 2004 to 2008 during which time many academic achievements were made which included the AAMC Award for Community Service, and a top 10 ranking by US News and World Report in Rural Medicine. Dr. Prescott served on the AAMC Council of Deans Executive Council. He wanted the students to do their best academically and to strive for excellence. These students have certainly earned that distinction.
Award Recipients
Class of 2023
Megan Cavrak
Morgan Zopp
Class of 2022
Eric Bonar

Seth Noorbakhsh
Class of 2021
Bayan Razzaq

Jasmine Shah
Class of 2020
Pranav Jain

Elizabeth Swain
Class of 2019
Aric Clegg

Zachary Werner
Class of 2018
Class of 2017
Donald Bennett

Natalie Ferreti
Class of 2016
Lauren Gioia

Hayley Leight
Class of 2015
Brendan Cline

Brandon Lucke-Wold
Class of 2014
Jonathan Amoroso

Heather Grome
Class of 2013
Class of 2012
Tara M. Melgary

Jill C. Rotruck
Class of 2011
Jacob Conjeski
Ryan Wilson
Class of 2010
Joseph Donahue
Michael Ruffolo
Class of 2009
Melissa Alleman
Anthony Cacco
Class of 2008
Carrie Cantrel
Jonathan Cristy
Class of 2007
Joel Bigley
Matthew Hazey
Class of 2006
Michael Mishra
Bradley Van Dyke
Class of 2005
William Cavatassi
Joseph Habib
Class of 2004