Histology – Morton & Myra Friedman Award
The Morton and Myra Friedman Outstanding Student Award was established in 2006 through the generosity of Morton H. Friedman PhD, and Myra M. Friedman to recognize annually high academic achievement in Microanatomy or its curricular equivalent as well as a commitment to voluntary community service.
Administered through the Department of Neurobiology and Anatomy, award money will be used to purchase educational materials of the recipient's choosing from among books, software, and/or other effects appropriate to the advancement of the WVU School of Medicine's recipient's course of study.
About the Donors
Dr. Mort Friedman spent 29 years or his entire academic career at West Virginia University as a member of the faculty of the WVU School of Medicine Department of Anatomy, a position he retired from in 1998 and was immediately named Professor Emeritus. While a faculty member, the former Outstanding Teacher Award recipient taught a variety of courses, including Medical Gross and Microanatomy, Cell Biology, Dental Hygiene Microanatomy, and Introduction to Research and Microanatomy for Pharmacists.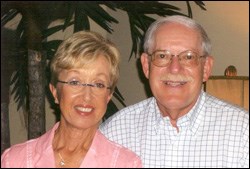 Approximately 3000 medical students, or every student who passed through WVU for nearly three decades, along with hundreds of dental and pharmacy students, took one or more of Dr. Friedman's classes. One WVU colleague describes Mort as "into everything, a real participant of life" who left his mark on Morgantown. While on the faculty, Dr. Friedman conducted the United Way Drive, served on the Faculty Senate, advocated for handicapped and minority students' rights, and worked on behalf of hospice and the elderly. As chair of the faculty Welfare Committee of the Senate, he was the principal advocate for the implementation of the University-wide non-smoking policy in all buildings and the stadium. A diehard Mountaineer fan, Mort was a WVU Athletic Department ticket taker at every Mountaineer football and basketball game from 1971 to 1982!
Myra Friedman's commitment to community service dates back to her childhood in Greensburg, PA., when "my mother took me to the hospital," saying they needed Candy Stripers. "It is never too early to start giving back," her mother told her. Myra Friedman has been volunteering every since. In 1985, she helped establish WVU's first Cancer Information Service, which provided information, outreach and education to patients, physicians, and members of the general public, who had questions about the disease. Prior to that, she was Volunteer Coordinator for what was then University Hospital, organizing, training and supervising hospital and student volunteers.
Today, Mort and Myra Friedman are as busy as ever. Both are frequent volunteers in their community, helping to raise awareness and support for a number of worthy causes. "Volunteers should encourage others to volunteer. If we don't, a lot of people are going to be lost in the shuffle or get left behind." A commitment to service is one of many values the Friedmans share as a couple, which they are passing on to a blended family of four children, eight grandchildren.
Award Recipients
2020
Ryan Cook
2019
Justin Conte
2018
Elizabeth Swain
2017
Michael Niemann
2016
Nainikia Nanda
2015
Donald Bennett
2014
Mark K. Radow
2013
Patrick Kennedy
2012
Jenna Sizemore
2011
Stephen Auciello
2010
Alexandra Castro
2009
Carl Seynnaeve
2008
Sharon Maas
2007
Melissa Alleman
2006
Jonathan Blum