Lauren M. Armistead Award - Charleston Division
Established in 2008 by the Armistead and Prescott Families in memory of 2005 School of Medicine graduate, Lauren M. Armistead, MD. Dr. Armistead was a surgical resident at Charleston Area Medical Center/WVU Charleston Division at the time of her tragic death in a plane crash that killed her along with her parents and her sister.
The award is in recognition of a senior student from the Charleston campus who best exemplifies excellence in academics, excelence in interpersonal communication skills, a love of medicine, and the ability to experience life to the fullest outside of medicine.
Award Recipients
2020
Madison Eichstadt
2019
Breanna Durbin
2018
Nicole Belko
2017
Kennedy Wolfe
2016
Chelsea Knotts
2015
Julia McNeil
2014
Charlotte A. Bibbee
2013
Carli Williams
2012
Christine Lansdale Westfall
2011
Jennifer Lee Armbruster
2010
Macy Martinson
2009
Kelly J. Baldwin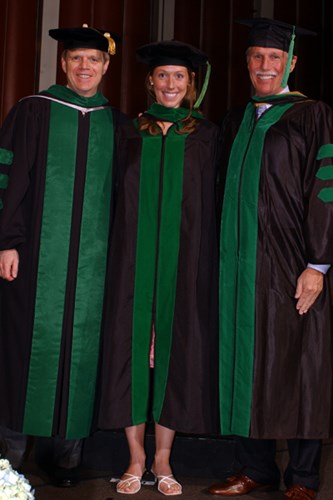 Lauren Armistead, MD at the School of Medicine Investiture with uncle, Dean John Prescott, MD, and her father, Dr. Armistead.