Pediatrics (Charleston Division) – Herbert Hart Pomerance Award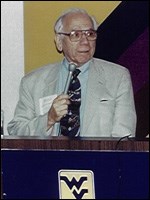 Given to the Charleston based student with the most outstanding performance on the Pediatrics rotations.
Herbert H. Pomerance, MD, FAAP, was the founding Chair of the Department of Pediatrics for the Charleston Division of West Virginia University Department of Pediatrics. Upon his retirement from WVU as a Professor Emeritus he relocated to become a Professor of Pediatrics at the University of South Florida College of Medicine, and served as Interim Chairman of the Department of Pediatrics in 1990 and 1991.
Born in New York City in 1918, Dr. Pomerance is a graduate of the Columbia University College of Physicians and Surgeons in New York, 1941. He did most of his training in pediatrics in New York City, and was in practice there for almost 22 years. He was chairman of state committees for the American Academy of Pediatrics in New York before moving to Charleston in 1970 to become Director of Pediatrics at Memorial Hospital and then Chairman of the Department. He served on the Academic Standards Committee for the WVU School of Medicine for numerous years and served six years as Chapter President of the West Virginia Chapter of the AAP. Other AAP Committees included: Standards of Child Health Care, Communications, and Practice and Ambulatory Medicine. He continued his work with the AAP in Florida becoming Editor of the Chapter's Newsletter, "The Florida Pediatrician". He has written a newspaper column ("Your Child's Health") for the Tampa Tribune and has appeared on television programs on many occasions, in both West Virginia and Florida.
His major area of interest in clinical pediatrics is in the normal growth of infants and children. He published "Growth Standards in Children" in 1979, as well, and a number of other publications, as a result of 21 years of research effort while in clinical practice. He is known for his love of teaching and for rendering care to disadvantaged children.
Award Recipients
2020
Tommy Casto
2019
Lily Suh
2018
Zach Claudio
2017
J. Carl Burr IV
2016
Samantha Hanna
2015
Benjamin Biddix
2014
Karina L. Geronilla
2013
Grant Morris
2012
Adam K. Morrison
2011
Lauren Becker
2010
Roopan Fischer
2009
Amanda McCoy
2008
2007
2006
2005
Barry Mitchell
2004
Amanda McCoy
2003
Casey Cottrell
2002
Autumn Starn
2001
Rose Ayoob
2000
Barry Mitchell
1999
Elizabeth Ann Young
1998
Thomas Horsman
1998
Amy Jarvis Albert
1997
Sara Oyler
1996
Jennifer Daugherty
1995
Kristin Matelis
1994
Anne Glover
1993
Diana Heinzman
1992
David Calfee
1991
Hillary Miller
1990
Robin Fanning