Ruth Phillips-Trotter Award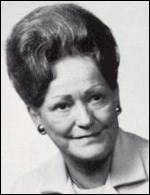 Established in 1986 under the leadership of Chair, William A. Neal, MD to honor the memory of retired pediatric faculty member, Ruth Phillips-Trotter, MD.
Dr. Phillips was one of the original faculty members in the Department of Pediatrics. She was the founder of the Cystic Fibrosis Clinic, and former Chair of the School of Medicine Admissions Committee.
This award is established to honor the senior female medical student from the Morgantown campus who demonstrates outstanding performance in Pediatrics, leadership qualities, and compassion. The winner is selected by the female faculty in the Department of Pediatrics.
Award Recipients
2020
Nikki Crowder
2019
Patricia Moran
Melissa Wolz
2018
Breanna Nolan
2017
Claire Schretlen
2016
Katie Seachrist
2014
Jamie Maloney
2015
Kacie M. Kidd
2013
Rachel Leon
2012
Stephanie Sisler
2011
Allison Marie Lastinger
2010
Sharon Maas
2009
Melissa Alleman
2008
Kara Hust Leslie
2007
Cindy Massey
2006
Jodi Link
2005
Sara Mola
2004
Jill Kenamond Bradshaw
2003
Lauren Morgan Swager
Lisa Haynie Wood
2002
Courtney Markum-Abedi
2001
Cheryl Locke Stockett
2000
Amy Beasley
1999
Ella Harvey Bowman
1998
Katherine Omer
1997
Jill Burns
1996
Pamela Williams-Arya
1995
Nalini Pillai Robinson
1994
Camille Castaldo
1993
Elizabeth Powers
1992
Jill Stewart
1991
Lisa Fazi
1990
Susan Lynch
1989
Debra Ann Stein Birdsong
1988
Lynn Marie Mangano
1989
Jeanne Marie Foose
1988​
Lu Ann Minich